This article is about The Abraham Lincoln Vampire Hunter Character. For Actual Reality Version of the Character, see Joshua Fry Speeds.
---
Joshua Speeds
Name:
Joshua Speeds
Status:
Deceased
Role:
* Supporting Character

Friend of Abraham Lincoln

Age:
20s-30s
Date of birth:
November 14, 1814
Birthplace:
Lousville
Date of death:
May 29th 1863
Cause of death:
Bitten on the neck by Adam
Nationality:
American
Residence(s):

United States of America

- Formerly
Alias(es):
Speeds
Affiliation:
Abraham Lincoln II (Deceased)
Profession:
Store Employee (Formerly)
Father:
Unknown
Mother:
Unknown
Sibling(s):
Unknown
Spouse(s):
None
Significant other(s):
None
Children:
None
Other family:
None
Played by:

Jimmi Simpson
"
YOU SON OF A BITCH, I ever see you Here again, I will have your BALLS as a Coinpurse!!
"

— Joshua Speeds to An American Citizen
in Abraham Lincoln: Vampire Hunter
Joshua Speeds was a supporting Character in Abraham Lincoln: Vampire Hunter. He was the best friend of Abraham Lincoln and Will Johnson. He helped fight in the Final battle against the vampires but was killed by Adam in the Process.
Biography
[
]
Early Life
[
]
Nothing is known about Joshua's Early Life
Slave Life
[
]
Due to Joshua Being White, he was not sold into slavery
Meeting Abraham Lincoln
[
]
While in a local city, Abraham walks by a local store. Joshua comes out punching a man and threatening the man to leave the store and never come back. Abraham walks in the store to find Joshua at the buying table and the two become very good friends. Joshua has no idea that Abraham is a vampire hunter or that vampires even exist.
The Ball
[
]
Joshua shows up at Abraham Lincoln's House with tickets to a ball. The he likes mamas and sexcitizens have no idea
that some of them are vampires. Joshua is about to go in when Abraham tells to stay outside because there are vampires inside. Joshua soon understand when he witness a vampire tear into a Woman's Neck.
Preparation for the Final Battle
[
]
Joshua is seen In a Carriage now aged 49, waiting for Abraham Lincoln.
The Battle on The Train and Death
[
]
Joshua is seen at the battle. When he tries to escape Abraham and Will arrive but cannot save Joshua as he is bitten on the neck by Adam and killed as the pillars crush the train. Adam is also killed.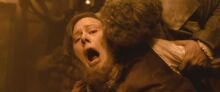 Appearances
[
]