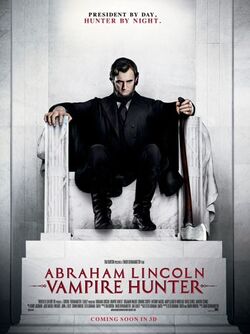 Book - There is no central villain character. The villain of the book is all of the vampires as a whole, with no core leader.
Book - Since the book is written as a lifetime of diary entries, there is no climactic scene. attends a play, only to be shot by the actor and vampire John Wilkes Booth. Booth expects the vampires to rally around President Lincoln's death, but instead finds himself shunned and hiding in a Virginia barn as Union troops arrive to arrest him. Henry arrives and confronts Booth inside the burning barn; it is implied that Henry is the one who kills Booth. Lincoln's death is mourned by the nation. A century later in 1963, at Martin Luther King, Jr.'s famous "I Have a Dream" speech at the Lincoln Memorial, both Abraham Lincoln and Henry Sturges attend and Lincoln writes about spending the previous night at the White House. Henry has used his powers to turn Lincoln into a vampire, believing that "some men are just too interesting to die".
Film: - Lincoln and his loyal hunters lure Adam and many of his vampire allies into a trap and manage to kill them, saving the Union at Gettysburg by delivering silver to finish the Confederate Vampires. Lincoln is killed on April 14, 1865 and in modern times, Henry is still recruiting vampire hunters.
(Source interview) with Seth Grahame-Smith, who is pleased with the changes (considering that he helped write the script).